Healthy Habits Campaign
Lifestyle Habits Can Greatly Impact Your Life!
Many of us develop habits that we are unaware of. Some habits can be good, while others can be bad. Most of the bad habits we form start at an early age, however, they can be changed to promote a happier, fuller life.
What are some bad habits?
Smoking Cigarettes
Alcohol Consumption
Eating Junk Food
Irregular Sleep Schedule
Bad Hygiene
Watching Too Much TV
Too Much Social Media
Change Your Habits, Change Your Life
Our Healthy Habits campaign invites you to reflect on your values and the actions you take that reflect those values. Joining a social club, sharing a meal, therapy sessions, and joining a sports team are just a few suggestions of how you can build healthy habits into your routine.
Strengthen Relationships
Healthy relationships can be strengthened through skill-building therapy sessions, at family gatherings, and by joining social or sports clubs. One or more of the 8 dimensions of wellness can become part of your new healthy habit, all while improving mental health and preventing addiction.
Knowing who to call when there is a mental health or substance use crisis can be crucial as well:
Call or text the Butler Count Crisis Hotline at 1-844-427-4747 any time of day, and day of the year.
Do you need help getting rid of bad habits?
Learn more about building healthy habits by reviewing the 8 dimensions of wellness and taking the self-assessment.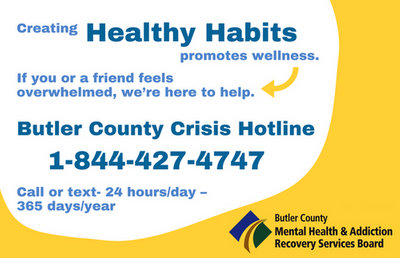 Butler County Crisis Hotline Information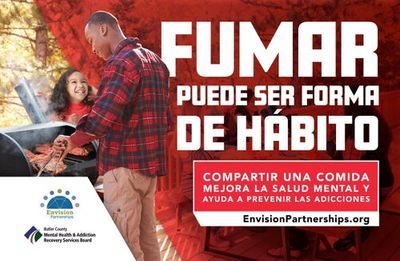 Smoking Can Be Habit Forming