Healthy Habits
Smoking… Talking to Strangers… Taking Shots with Friends… can all be habit forming.
Our Healthy Habits campaign invites you to reflect on your values and the actions you take that reflect those values. Joining a social club, sharing a meal, therapy sessions, and joining a sports team are just a few suggestions of how you can build healthy habits into your routine.
Healthy relationships can be strengthened through skill-building therapy sessions, at family gatherings, and by joining social or sports clubs. One or more of the 8 dimensions of wellness can become part of your new healthy habit, all while improving mental health and preventing addiction.
Knowing who to call when there is a mental health or substance use crisis can be crucial as well:
Call or text the Butler Count Crisis Hotline at 1-844-427-4747 any time of day, and day of the year.
Learn more about building healthy habits by reviewing the 8 dimensions of wellness and taking the self-assessment.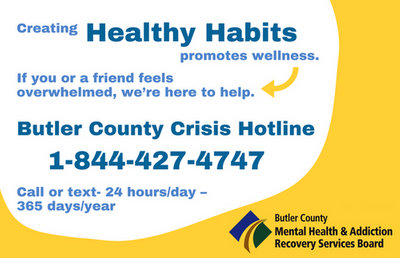 Butler County Crisis Hotline Information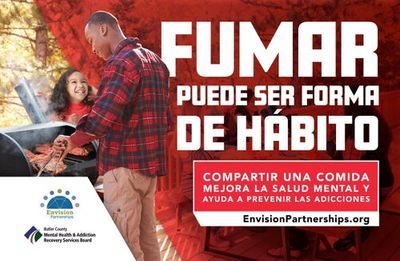 Smoking Can Be Habit Forming