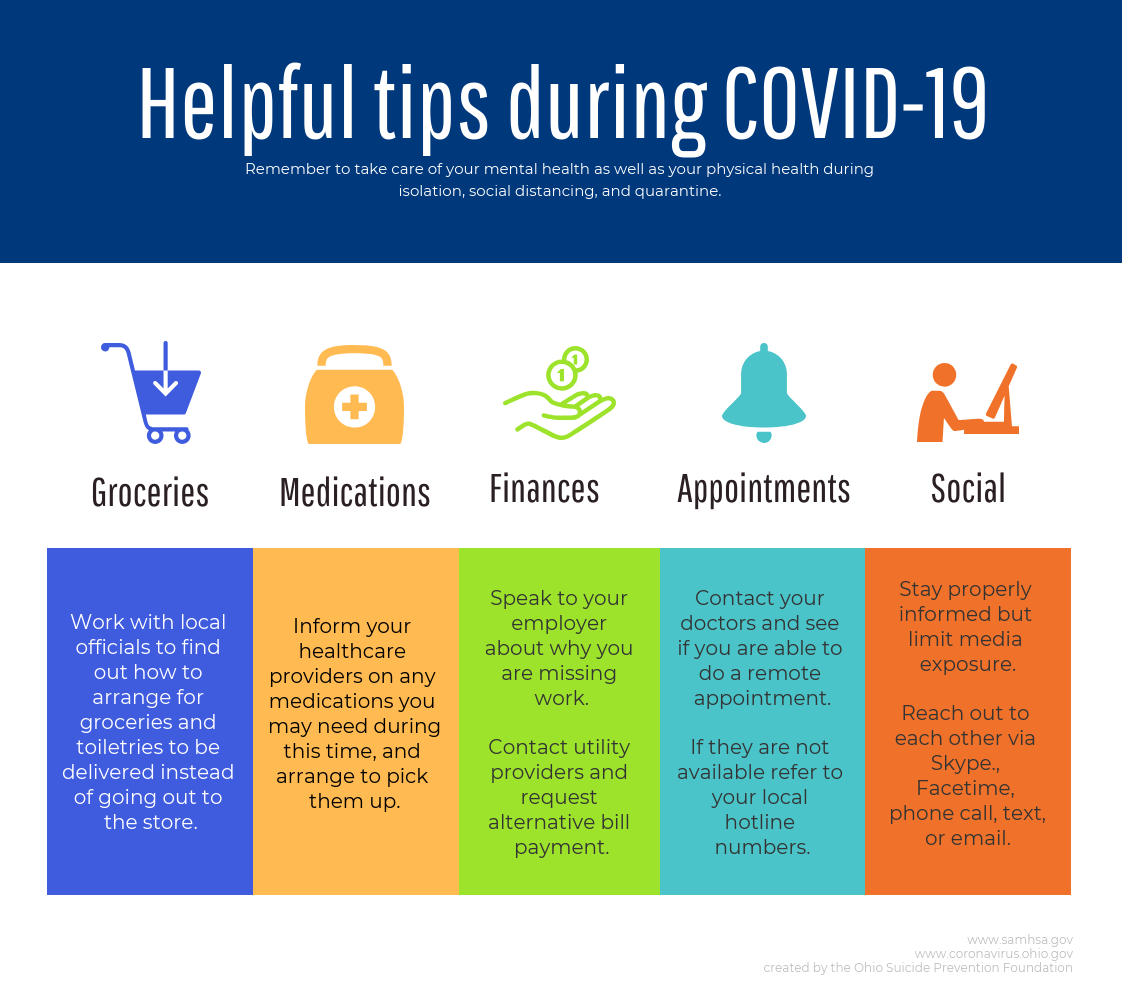 The Ohio Suicide Prevention Foundation provided us with this infographic with helpful tips for people to follow during COVID-19. In today's post we are going to get specific in each of the categories on OSPF's infographic. We want to connect residents of Butler County and the surrounding areas to available resources. It's our hope to help you take care of your mental and physical health, and your family's, during this time of social distancing and isolation. 
Groceries: how to get groceries delivered to your home. 
-Instacart: within the 45011-area code, this service delivers same-day from Kroger, Aldi, Target, and CVS Pharmacy. Delivery costs between $5.99 and $11.99 per order for nonmembers (orders under $35 will cost more). However, by becoming an Instacart Express member for a fee of $149 per year, you can get free delivery on all orders over $35. Learn more about Instacart here. 
-Shipt: within the 45011-area code, this service delivers same-day from Meijer, Target, and CVS Pharmacy. Unlike Instacart, Shipt offers a monthly membership of $14, but there is an option for the annual membership of $99. Members of Shipt have to spend at least $35 per order to qualify for the free delivery. Orders less than this will be charged a $7 fee. Learn more about Shipt here. 
-Walmart: this store offers both same-day pickup and same-day delivery services and doesn't require a membership. You can also put your order in at a pickup window, then wait in your car for your groceries to be brought out to you. With limited pricing information on their website, the delivery costs are unclear. Learn more here.  
*The prices identified above are based on the 45011 area code; upon entering a different area code, prices may vary.
Medications: how to refill and receive prescriptions during COVID-19.
-How Much?: health officials recommend keeping anywhere from 10-days' worth of prescription to 3-months' worth. 
-90-Day Refills: ask your pharmacist if you can get a 90-day refill of your prescription instead of a 30-day refill. Ask your provider to help you apply for a quantity limit exception if your health plan limits the amount of medication you can get. 
-Walgreens & CVS: as a result of the COVID outbreak, Walgreens and CVS are delivering prescriptions for FREE. Smaller, local pharmacies typically deliver prescriptions for free as well. 
*Safe prescription practice: reminder about keeping prescriptions out of reach of children and pets in a locked area. Unused or expired prescriptions can be dropped off at some Walgreens and CVS locations, but during this time of staying at home, it may be best to keep them separate, clearly labeled, and locked. This is especially true for any prescription pain medications and can be expanded to include non-prescription medications, too.
Finances: utility payments, information for employers, and the Families First Coronavirus Response Act.
-Utilities: many companies are suspending disconnection for non-payment during COVID-19 in order to give customers who are experiencing financial hardship additional time to make payments. Duke Energy is one of those companies; on March 13, 2020 they suspended all disconnect due to nonpayment. Contact your utility provider to see if they are suspending disconnection as well as offering payment plans online. 
-On March 15, 2020 Governor DeWine announced measures to assist employers concerned about workforce reductions during the pandemic. An article on the Bricker & Eckler Attorneys at Law website, written by Marie-Joëlle C. Khouzam, covers DeWine's announcement. Find it here.
-Families First Coronavirus Response Act: "This bulletin focuses on those aspects of the legislation approved by the House that address (1) emergency paid sick leave and paid leave under the Family and Medical Leave Act ("FMLA") and (2) zero cost coverage for COVID-19 testing." Learn more here. 
Appointments: remote doctor's visits and telehealth services.
-Remote Request: simply request that you get an appointment with your doctor, but remotely. We are currently working to obtain numbers for telehealth services within Butler County. In the meantime, check your email for telehealth instructions from your health and insurance providers, or contact them directly. 
Social: stay informed but limit media exposure; stay connected with friends and family.
-Quick Links to Local News: Journal News, Local 12 News, and WLWT 5.
-Agencies to Follow: The Butler County Mental Health and Recovery Services Board (BCMHARS), The Ohio Suicide Prevention Foundation (OSPF), and Envision Partnerships.
-Stay Connected: our agency has started utilizing a video-conferencing software called Zoom Meetings. There's also Skype, Facetime, and Go To Meeting. There are lots of resources that have become free or were free before that help you maintain your health and happiness utilizing SAMHSA's 8 Dimensions of Wellness. We will be providing you with these resources and interactive games in the coming weeks. Here's one place to start.