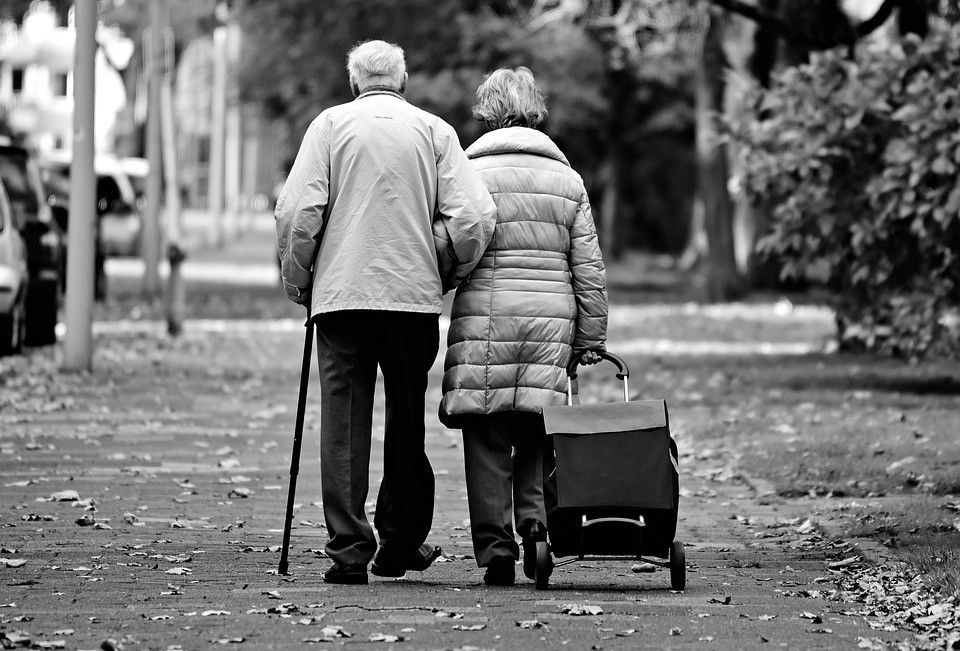 Since 1999, suicide rates have increased by 30%. A majority of deaths by suicide are male, with death by firearm suicide being the most used method. However, it isn't common knowledge that senior suicides account for 18% of all deaths by suicide. Those over the age of 85 occupy the highest risk of suicide than any other age group. Even so, it is believed that elderly suicides are underreported by 40% or more (due to methods such as dehydration and self-starvation); "silent suicides".
What are risk factors for elderly suicide? While there isn't a singular factor tied to suicide, there are a few issues that can influence someone's decision.  Relationship issues, such as divorce, pose as a risk factor for suicide in men more than women. A life crisis, such as losing a spouse, can be especially crushing for a senior. According to Psychology Today, loneliness and grief following the death of a loved one is often a trigger for suicide attempts in older populations. 
A risk factor that might come as a shock to some is substance abuse. Binge drinking and tobacco use are unfortunately quite common among older Americans. One study found that 35% of men age 65+ who died by suicide had a history of alcohol dependence; 18% of women. Illicit substance use "is more prevalent among American older adults than among older adults in almost any other country in the world."
Other risk factors for suicide among older adults include physical health issues and employment/finances; risk of suicide increases substantially with one or more health conditions present. Economic security is a major stressor for those 60 and older, many of whom live at or below the federal poverty level. Things like "rising housing and health care bills, inadequate nutrition, lack of access to transportation, diminished savings, and job loss." put elders at risk for suicide.
While it's important to know the risks for elderly death by suicide, it's just as important to know the warning signs: (Derived from the American Association of Marriage and Family Therapy)
-Loss of interest in things or activities that are usually found enjoyable
-Cutting back social interaction, self-care, and grooming
-Breaking medical regimens (such as going off diets, prescriptions)
-Experiencing or expecting a significant personal loss (spouse or other)
-Feeling hopeless and/or worthless
-Putting affairs in order, giving things away, or making changes in wills
-Stock-piling medication or obtaining other lethal means
-Other clues are a preoccupation with death or a lack of concern about personal safety. Remarks such as "This is the last time that you'll see me" or "I won't be needing anymore appointments" should raise concern.
-The most significant indicator is an expression of suicidal intent.
AAMFT. (n.d.). Suicide in the Elderly. Retrieved July 3, 2019, from https://www.aamft.org/AAMFT/Consumer_Updates/Suicide_in_the_Elderly.aspx
Aging in Place. (2019, January 18). Elderly Suicide: The Risks, Detection, and How To Help: Updated for 2019. Retrieved from https://www.aginginplace.org/elderly-suicide-risks-detection-how-to-help/
Kuerbis, A., Sacco, P., Blazer, D. G., & Moore, A. A. (2014). Substance abuse among older adults. Clinics in geriatric medicine, 30(3), 629–654. doi:10.1016/j.cger.2014.04.008
NCOA. (2017, August 10). Elderly Poverty Statistics - Economic Security. Retrieved from https://www.ncoa.org/news/resources-for-reporters/get-the-facts/economic-security-facts/
Vitelli, R. (2015, March 16). Grief, Loneliness, and Losing a Spouse. Retrieved from https://www.psychologytoday.com/us/blog/media-spotlight/201503/grief-loneliness-and-losing-spouse