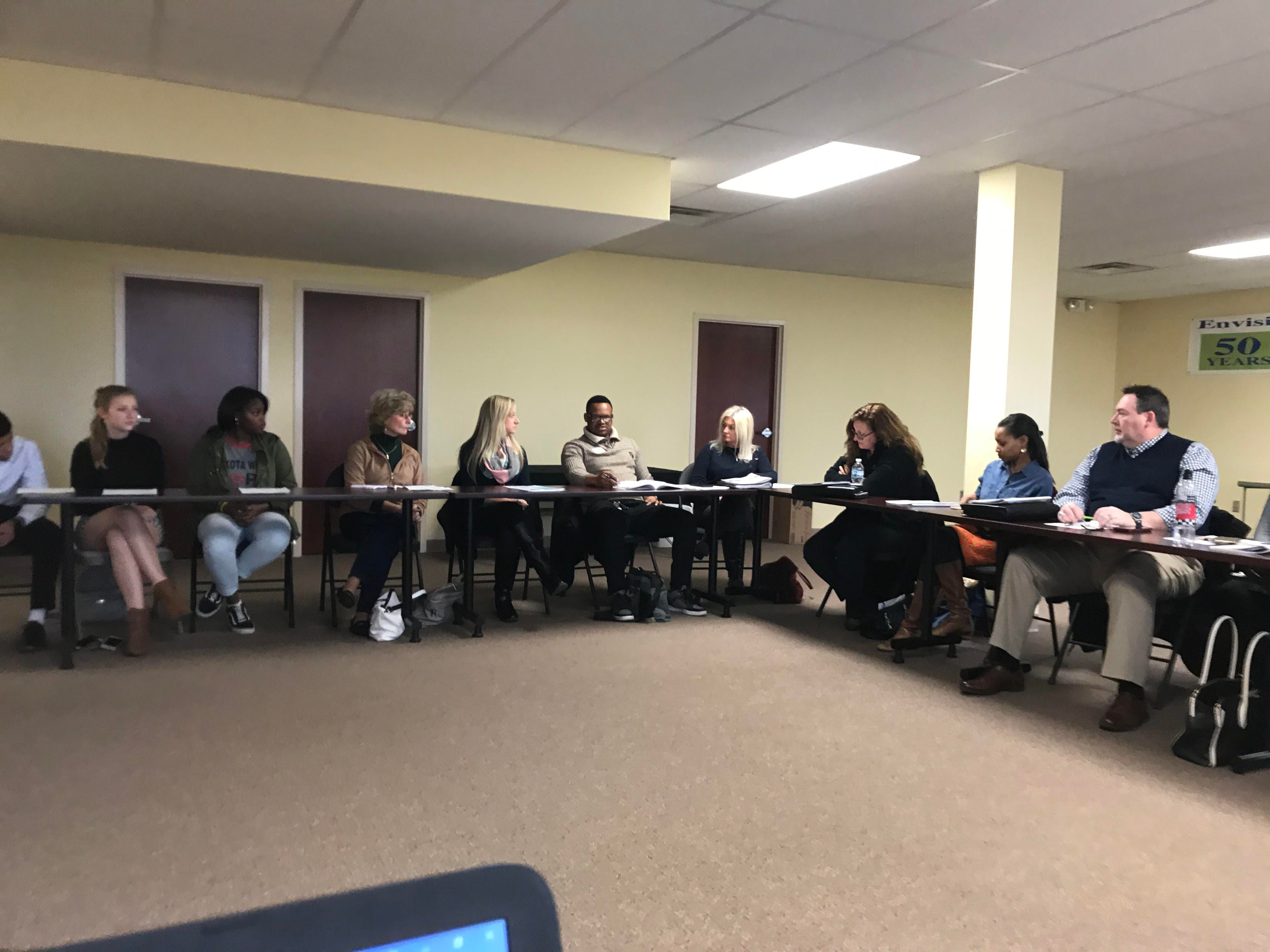 Yesterday from 3-4:30 the Butler County Suicide Prevention Coalition (BC SPC) welcomed many new faces! Led by Envision Partnership's Suicide Prevention Coordinator Kristen Smith, the meeting began with introductions, followed by the coalition's strategic plan, and the progress of various educational and awareness initiatives. We had representatives from different organizations and agencies, such as: Primary Health Solutions, Grant Us Hope, Faith Community United Methodist Church, Butler County General Health District, Butler Behavioral Health, the Butler County Mental Health and Recovery Services Board, Community First Solutions, the Safety Council of Southwest Ohio, the Ohio State University Department of Early Childhood Education, and Lakota West High School. We had four HOPE Squad students from Lakota West High School in attendance, and two private citizens from the community. 
The BC SPC's goal is to "Decrease suicide an average of 10% by June 30, 2021 through development and implementation of a Butler County suicide prevention plan.", resulting in overall reduction of adult and youth suicide rates. This plan involves training as many people as possible in QPR (Question, Persuade, Refer), incorporating evidence-based programming into classrooms/education of support groups/prevention, developing support through partnerships, and more. The coalition is now two years into this strategic framework. 
In the past year there's been a 8.6% reduction in suicides in Butler County. This past year included first-time educational initiatives such as September's Stand Up to Suicide: 90 Minutes to Save a Life event. September is suicide prevention month, so Butler County along with 13 other counties in Ohio teamed up to train as many people as possible in QPR in just four weeks. At the end of the month, over 1600 people were trained! Even better, this event sparked additional interest in setting up a QPR training once the month was over.
HOPE Squad is another valuable educational initiative. HOPE Squad is "a school-based peer-to-peer, suicide prevention program for students... members are students nominated by peers as trustworthy classmates and are trained to identify at-risk students, provide friendship and seek help from an adult." (Grant Us Hope) The 4 Lakota West High School students that were present at yesterdays meeting have all been trained in QPR, and are considered essential to the overall reduction of youth suicides.  
As part of an awareness initiative, the coalition put on a walk (A Walk to Remember) on September 10th, World Suicide Prevention Day. The walk was held at the Voice of America Park in West Chester, OH where the community got to hear from Tyler Bradshaw who lost his father to suicide in 2013. Tyler has become a regular spokesperson around the topic of mental illness, suicide, and grief from the loss of a loved one. His story and bravery was an inspiration for all. This then made for a perfect transition to a candlelight walk around the lake. *Details for next years walk will be released closer to the event date. 
After reviewing the success of various initiatives, the meeting went on to discuss the goals and plans for the New Year. These include: looking at new at-risk populations (such as seniors and veterans) and tie our work into it, addressing screen time and social media by educating the community to set limits, safe storage of firearms/alcohol/drugs, link with other partners in the community that offer healthy habit activities (yoga, etc.), look into mindfulness and the impact of PAX tools on suicide ideation and suicidal actions. 
Special thanks to everyone who attended yesterdays meeting, and we are looking forward to seeing many new faces at the next meeting. 
Come attend the next Butler County Suicide Prevention Coalition meetings: 
March 12th and June 11th: from 3:00-4:30 at Envision Partnerships (2935 Hamilton Mason Rd., Hamilton, OH 45011)