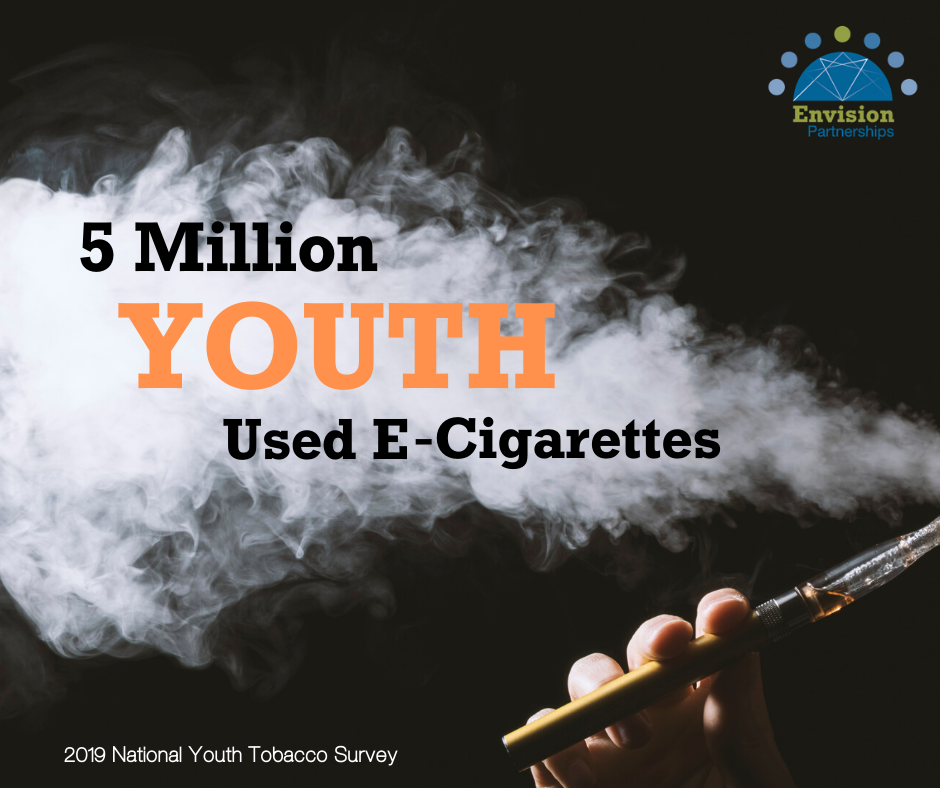 The National Youth Tobacco Survey is "a school-based survey that collects information on tobacco use from middle school (grades 6-8) and high school (grades 9-12) students." It is supplied by the Center of Disease Control and Prevention, and the National Center for Chronic Disease Prevention and Health Promotion. Conducted annually, the content of the survey covers the use of cigarettes, cigars, smokeless tobacco, and other tobacco products (e-cigarettes) within the past 30 days. 
According to the 2018 survey, more than 3.6 million youth reported using e-cigarettes. This year, that number has climbed to 5 million. An alarming 27.5% of high school students and 10.5% of middle school students reported e-cigarette use. While traditional cigarette use among youth has gone down over the past year, the drastic increase of e-cigarette use has hurt the progress of reducing overall tobacco use. 
1.6 million youth e-cigarette users said they use the product frequently, on 20 or more days per month; 1 million reported daily use. The vaping epidemic has resulted in an outbreak of lung injuries, called "popcorn lung", which can be deadly. "One of the particular dangers of popcorn lung is that popcorn lung symptoms look indistinguishable from lots of other lung diseases, like asthma or... pneumonia." For this reason it is often misdiagnosed and therefore not treated correctly, worsening the condition. Symptoms include shortness of breath, wheezing, dry cough, and exhaustion. 
Why do young people try e-cigarettes in the first place? The media played the biggest role in influencing youth to start using. According to the survey, 9 in 10 middle and high school students reported being exposed to at least one advertisement about vaping. Social influence (family and friends that use the product), an interest in the different flavors of vapor, and just general curiosity are other reasons.
The nation is looking into ways to fight the epidemic, which could include taking all flavored vapors off of the market. According to the CDC, "A majority of youth e-cigarette users report using flavored varieties, most youth e-cigarette users first start using e-cigarettes with a flavored variety, and flavors are the primary reason youth report using e-cigarettes." Could a ban on flavored products be the answer to reducing overall youth tobacco use? 
---
https://www.wlwt.com/article/report-more-than-6-million-us-middle-and-high-schoolers-used-tobacco-products-in-2019/30146771
https://www.mphonline.org/vaping-public-health/ 
https://www.fda.gov/media/132299/download 
https://www.healthypeople.gov/2020/data-source/national-youth-tobacco-survey
https://www.cdc.gov/tobacco/basic_information/e-cigarettes/Quick-Facts-on-the-Risks-of-E-cigarettes-for-Kids-Teens-and-Young-Adults.html